Teens enjoy the astral wonders of the universe at Bryngarw Country Park
By Jonathan, 09th Feb 2022
A youth group of aspiring astronomers and outdoor enthusiasts staying at the Village Lodge in Bettws enjoyed an evening of stargazing at Bryngarw Country Park on Friday 4th February, thanks to Awen Cultural Trust and The Outdoor Partnership.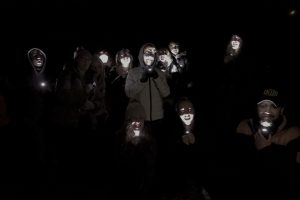 The event, which was funded by the Welsh Government's Winter of Wellbeing initiative, was led by Dorian Thomas of TrigPoint Adventures, with support from Paz of Bettws Boys and Girls Club, which manages the Village Lodge, and Bryngarw Ranger Beth Hopkins.
Dorian helped the teenagers to spot stars, identify constellations and locate planets within the clear night skies over Bryngarw.
Richard Hughes, Chief Executive of Awen Cultural Trust, said:
"This event demonstrated a genuine partnership between a number of different organisations working together to give young people a fascinating experience of the natural wonders of the night sky. We are grateful to The Outdoor Partnership, TrigPoint and Bettws Village Lodge for their support and to Welsh Government's Winter of Wellbeing funding. We could all learn from 'looking up' as stargazing can provide us all with a great sense of perspective, give us a moment of calm within our busy lives, and help us get more connected with nature, something we are all committed to offering at Bryngarw."
Dorian Thomas of TrigPoint Adventures said:
"In Wales we are blessed with incredible Dark Skies, not only in the Dark Skies Reserves of Brecon Beacons and Snowdonia National Parks, Bryngarw Country Park demonstrated this tonight. We spent the evening looking up at the night sky in this beautiful location, identifying constellations, stars, the Milky Way and even watching the odd shooting star fly past! The group were really engaged through asking questions and identifying and pointing out star clusters like Pleiades (The Seven Sisters). I look forward to visiting Bryngarw in the future and would encourage the group and anyone to visit Bryngarw on a clear night to do some stargazing."
Leila Connolly, Outdoor Activity Development Officer of Y Bartneriaeth Awyr Agored, said:
"Bryngarw Country Park from the beginning has been really engaging about encouraging opening the doors to the outdoors for all. We had such a great night with the local youth group exploring the park, the night and learning about and appreciating the starry dark skies. I know I left feeling like I had done something exciting and different with my Friday evening!"